Alternative Supplies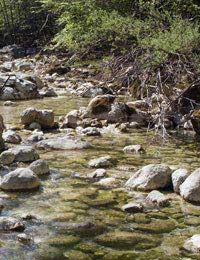 The privatisation of the water and sewage supplies differed from many of the other privatisations in the 1980s and 1990s as the second stage, deregulation to allow competition, never happened. It was considered too difficult, too expensive and didn't deliver enough benefit to split the industry up in a similar way to that of the other utilities. The fact that failure of the system would cause a public health issue and associated outcry no doubt also contributed. So there is no way that you can play one supplier off against another to get better prices or services, the only thing you can do to change supplier is to go off grid and do it yourself.
Private Water Supplies
Private water supplies are not as rare as people might think. There are many places that mains water has never reached, sometimes because it's too difficult to get over (or under) the terrain, or because of land ownership difficulties. Many estates in the UK would have had domestic water systems installed in the sixteenth and seventeenth centuries for the main house, and later these would have been extended to supply the houses in the estate. For these places there would never have been a need for the water mains so many are still without it now.
Drawing a supply from ground water usually requires a borehole down to the water table, and then water is pumped up, either into a water tower, where it can settle and gravity can drive it to the properties, or directly into a pumped system of pipes via a chemical filtration unit. It is expensive to drill boreholes but there are a number of initiatives to make the process cheaper and more accessible for domestic properties, so it's something that might be more easily available in the future. Permission is also required from the water authorities before drilling.
Rivers and Streams
If you are lucky enough to live on a property with a river or stream running through it you could draw water from that, but for this you also need permission from the relevant river authority in the area. You would also need to put adequate filtration in place, particularly if there are cattle upstream of your property, as they can introduce pests such as liver flukes into the river.
Personal Sewage Treatment
Sewage treatment is also not restricted to mains services. Cesspits are common in rural areas, as are small private sewage treatment works, which can be as small as a garage. Again these private sewage plants are common in older manor house estates or farms, and can purify waste without needing to be emptied.
Reed Beds
A form of sewage treatment making a comeback, particularly in eco-builds, is the use of reed beds to purify waste. It's only practical for properties with large gardens, but essentially a part of the garden, preferably downhill from the home and downwind of prevailing breezes, is given over to marsh.
The water flow through the reed bed needs to be carefully controlled, and the reed bed itself carefully designed and planted, and it'll be two to three years before it can be used, so it's a large-scale, long-term affair. If you have the right land available and good relationships with your neighbours, it might be something that could be done on a community scale though.
Composting Toilets
On a smaller scale, dry toilets, also known as composting toilets, are being revived by people wishing to be more ecologically sensitive. These are excellent for saving water, as there's no flush involved, the waste is simply dropped into a pit and then covered with an organic material, often sawdust. Proper ventilation will ensure that there are no smells, and with an access flap the composted waste can be removed and used as fertiliser after a few months.
Resistance to using dry toilets is high among people who don't want to give up flushing two or three gallons of treated drinking water away every time they go to the lavatory, but it could be that the realities of a future world will change to make that a selfish consideration.
You might also like...
All I needed to know was the water rates for PE150UA but do you give a chart. Nooooooo.
wolfem
- 4-Jun-12 @ 4:34 PM