What Happens if You Can't Pay Your Bill?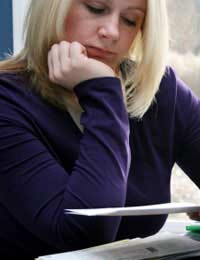 If you get into financial trouble then the last thing that you need is the threat of being cut off from any utilities. The main thing to bear in mind is that all utility companies will only do this as a last resort, after all, if you're cut off then you won't be paying them any money at all. So generally speaking they'd rather have someone who's paying even a little off their arrears than no money coming in at all.
General Advice
The advice to people who are falling behind with payments for any utility is the same regardless of which service it is: keep the company advised of the situation and keeping paying whatever amount you can afford. If you allow large bills to mount up without telling the company in question then they are more likely to want to take aggressive action to recover it.
On the other hand, paying small amounts regularly, even if the bill is not paid off in full, will create a history of genuine attempts to settle the debt, which will look better if the worst comes to the worst and you are taken to court for non-payment.
If you contact the utility company yourself to discuss non-payment they are likely to want to arrange a regular payment that will put the situation right over a period of time. This is easier than trying to pay the arrears off in one go, but do make sure that you can keep up the agreed payment as they are not as likely to be so lenient if you have to go and ask them to do this for a second time.
Gas and Electricity
Both gas and electricity companies have the power to insist that you go on a pre-payment meter if you cannot keep to an agreed payment plan. This means you then have to pay for services before you use them,
Gas and electricity companies also have to follow standard conditions before they can cut you off. Some of the conditions relate to the timings, for example they must leave 28 days between sending a bill and sending a disconnection notice and then the disconnection notice must give at least seven days notice.
Some groups of people can be protected from disconnection from gas or electricity services, such as the elderly, disabled, people with mental health problems and those suffering long-term ill health. If you fall into that category then seek advice from the Citizens Advice Bureau or a charity that supports your particular condition.
Telephones and Internet
With mobile phone, fixed line telephone and internet services, it's technically quite easy to cut someone off the services are not consider as essential as water, gas and electricity, so there is less protection. Different companies will have different sets of rules but the general advice still holds, talk to the company before the situation gets too bad.
Water and Sewage
Water and sewage companies are prevented by regulations from cutting people off because of the health hazard, but that didn't stop them effectively cutting people off once they had been privatised and got more hard-nosed. Initially they were allowed to cut non-paying customers off but were required to notify health authorities, but they were rarely quick with that process.
This resulted in a legal ban, in 1999, on cutting off domestic supplies over non-payment. So now the water companies are only able to pursue people through the courts system to get the money, they can't deny people access to water. However recently there has been evidence of some water companies using a loophole; assuming that a property is empty and using debt collectors to threaten that the supply is to be cut off because the property is empty, when in fact it is not.
You might also like...