Human Powered Electricity Generation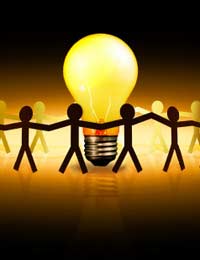 The current focus on ecological matters, producing power in ways that don't pollute the planet, is creating a new marketplace for inventors and entrepreneurs who can see new ways of doing this.
In a number of different ways, the energy that we expend as we are walking around is being harnessed to produce clean power. Not only can human power help us to continue the way of life that we are used to without damaging the planet but it will lower electricity bills and keep us fit too.
Direct Human Power
In terms of using human power to directly power appliances, Trevor Baylis, the British inventor, produced the first commercially successful wind-up radio in 1996. He has gone on to produce a number of other wind-up inventions such as mobile phone chargers and a foot pump generator that can run bigger devices.
Another example is lift moved by human power lift at Gibson Mill, a National Trust property in Yorkshire. As there is no mains electricity supply the restoration of the mill over the last few years has been done as ecologically as possible. The lift is attached to a system of pulleys that uses counter balances so that staff members can easily move it between the ground and first floors.
Using Human Power to Generate Electricity
In America, researchers at the Massachusetts Institute of Technology are working on shoes that generate small amounts of electrical power as people walk. The idea is to produce enough of a charge from human power to run small electrical items such as radios or music players, mobile phones or even wearable computers.
There are larger scale projects around the world that are trying to convert human movement into power although not many have yet got off the ground. One that has is in Japan, where ticket gates at a railway station power themselves using electricity generated by the movement of the gates themselves.
Human Power in the Home
Using human power for energy generation in the home is also at an elementary level although some pioneers have been at it since the oil crisis in the 1970s. A number of gyms in America are using new cycling machines that generate electricity that is used to power the lights. If low energy lights are used, such as LEDs, then it's easier to get a usable amount of light from human effort. These machines are not yet available in the UK and are quite expensive.
There are a couple of platforms that an ordinary bike can be connected to, a little like a rolling road, with a generator attached. Again they are not easy to find in the UK but they aren't as expensive as the purpose built cycling machines.
DIY Human Power Generation
It is possible to make a generator yourself though, and a number or websites offer plans and suggestions as to how to do it. They are mainly based on the cycling machine principle but there's no reason that they couldn't be adapted to other gym machine layouts.
The electricity generated by these machines will be direct current (DC) rather than the alternating current (AC) that comes through the mains supply, so it will need to be stored in 12V batteries until it's ready to be used, which makes it a bit cumbersome to install in a home. Anyone serious about this idea would probably be better off installing a number of machines around the home, with their own batteries, placed near individual appliances.
Transforming for Gadget Power
The good news is that although many devices plug into 240V AC mains in the home, they actually use a DC current of 12V or less through a transformer (the black clod attached to the mains lead or plug). So with a bit of electrical wizardry you could charge laptops, mobile phones and music players, although you will need circuits to protect them from overload.
You could even power desktop computers, although they will need a battery source nearby, a means of charging them and those protection circuits too. You'd also need to get inside the computer's power supply to bypass the 240V AC circuitry and transformer so may be that's best left to people who know what they're doing with circuits!
You might also like...