What do we do About Our Electricity Bill?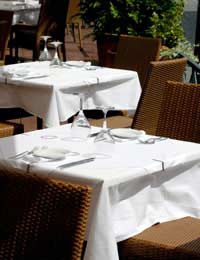 Q.We have owned a cafe for 2.5 years in London. For some unknown silly over sighted reason we have just realised that our gas bill is not a dual fuel bill, it is just our gas bill. Therefore for over 2 years we have not paid an electricity bill.
We have not received a single electricity bill and it would seem as though they have sent to another address. We would like to know where we stand legally. I think we owe whoever the supplier is, which we do not know either, around 5,000 pounds, that would seem reasonable. Would they let us pay it off in instalments?
(Miss Kiren Lall, 7 October 2008)

A.
First of all you should be commended on your honesty – you obviously want to carry on with your café in its current location. For many people the obvious answer would be to either close up and move on, or simply carry on as before, and hoping that they are never found out.
But this is a bizarre situation and it's evident that you want to resolve it for your own piece of mind.
Check the Basics First
The first step is to check that you really are only paying for gas. Many of the companies that are now selling gas and electricity since these supplies were privatised and then deregulated are still trying to put decent systems in place and it could be that you are paying for electricity in the final amount without it being itemised. A quick phone call should suffice.
It's also worth checking the terms of your lease if you are renting the café. It may well be that the landlord found it too expensive and troublesome to split the supplies, perhaps if there is a flat above, and decided to make a charge for electricity in with the rent instead of separating it.
Find Out Where the Electricity Supply Comes From
Assuming that the situation is as you describe, then the next step is to find out where your electricity supply is coming from, since someone somewhere is likely to be paying the bill, otherwise you would have been cut off. If you have a meter, check that it is in use – you should be able to see the little disc rotating and the numbers slowly increasing, even if there's not much electricity being used.
If there's no meter, try following the electrical distribution cables from your fuse box until you get to one, or until you get to another property. This is easier on older properties as the cables are likely to be tacked to walls either inside or outside the property.
Take Advice and Get Legal Backup
If the situation doesn't make itself clear then the next step should be the Citizens' Advice Bureau, who ought to be able to help find out who is paying on your behalf or who the
electricity supplier
is for the premises.
If a mistake has been made by the electricity supplier then they would almost certainly accept payment over a period of time, particularly as it is you who has brought the matter to their attention. If you carry on without saying anything and are discovered in a few years time they may not be so lenient.
It might be worth going to a solicitor and telling them the story, giving them copies of any relevant documentation and asking them to document your plans to find out what's going on and sort it out. Then if things get sticky you can at least prove good intent, which will help in a court of law.
You might also like...