Alternatives To Electricity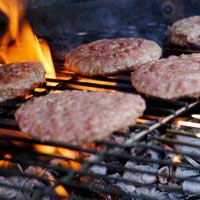 In this article we look at the alternatives to paying electricity companies for their supplies, which means cutting down electricity use, looking for different ways to do the things that we use electricity for, or generating your own electricity. How far you go down these routes depends on your motivation; whether it's financial, ecological or you just fancy being able to live independently. There is a separate article on generating your own electricity in this section so we'll concentrate in reducing and avoiding it's use in this article.
Heating and Cooking
If you're using electricity for heating the home, look at switching to another method such as gas, or, for the ecologically minded, a carbon-neutral source such as a wood-fired stove with back boiler (or other biomass rather than wood). A multi-fuel combination stove and boiler would enable you to burn all sorts of wood and other biomass fuels. They are considered carbon neutral because the carbon being burnt is the same as the carbon that the plants generated while they were growing. So as long as it's from a sustainable source, it's taken as a green option.
The same methods can be used for cooking, either mains or bottled gas, or a biomass fuelled range-style cooker which can also have a boiler built in to provide hot water and heating too. One thing to look out for if you go for an oil-filled range with a boiler is to make sure that the oil tank is situated so that the oil can reach the stove by gravity alone, or you will need an electricity supply for a pump.
These oil-fired ranges also use different ways of vaporising the oil, which helps it burn more efficiently. Again, it's best to avoid ones that use electricity to spin the oil around at the point of ignition, as apart from anything else it means that a power cut stops you cooking and heating water and the radiators even though you're not using electricity to power the system. Check out the vaporisation method used by each product to make sure you get the right one.
Lighting
There's not much of an alternative for lighting, and going to bed when it gets dark might make it difficult to carry on a modern life, particularly in the winter. Obviously it makes sense to put in low-energy lightbulbs and turn off the lights in each room as it's vacated. Candles can be used although there's a safety issue, particularly for those for those with children or elderly relatives in the house. Oil or paraffin-fired lighting is stronger than candlelight but uses non-renewable energy sources.
It might be possible to prolong the daylight in your home with larger windows or sun-tubes, mirrored tubes that divert light down from the roof into darker corners of the house, so that you don't need to turn the lights on so early in the day.
Say No to Standby
For electrical devices used for entertainment or in the kitchen, make sure they're turned off completely rather than placed on standby. There are a number of new devices coming onto the market that help with this, remote control switch-offs for hard to reach sockets, for example.
A recent innovation that's useful in the home office or study is an intelligent eight-socket power supply that senses when the main PC is shutdown and then cuts the power to all the other sockets. This means that power to all the peripheral devices plugged into it, such as printer, monitor, scanner, external disk drives and anything else, is automatically cut. It can also be used with clusters of entertainment equipment, to cut power to all the devices when the television is turned off, although you should make sure any recording devices are powered through a different socket.
Power Up
What it boils down to though, is that there are alternatives to electricity for almost everything except safe lighting, and for that, if you don't want to be on the grid, it's necessary to look at generating your own power.
You might also like...
This article was perfect for my writing
Superellie11
- 10-Jul-14 @ 9:46 AM