Avoid Excessive Internet Charges on Your Mobile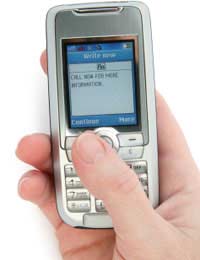 Smartphones make it so convenient to browse the web on the move, but do you know exactly how much it's costing you? If your mobile phone contract carries a data limit it's important to make sure you don't exceed it, otherwise you could end up with a hefty bill at the end of the month.
Keeping Tabs on Billing
Find out from your provider exactly what your data allowance is and what you'll be charged if you exceed it. Keeping track of your data usage throughout the billing month will keep you in control of your finances, so check with your provider how you can do this. They might offer a web-based customer self-service facility, or provide an application for your smartphone which will monitor your usage.
You can keep tabs on your data usage yourself; many mobiles have a dedicated programme which monitors data usage, so check your settings to see if you have something similar.
Set an alarm to remind you to reset this usage at the start of each billing month, then use the tool to stay on track. If you're nowhere near the end of the month and already reaching your limit, it will give you an opportunity to alter your usage or contact your provider to discuss greater capacity.
Get to Know the Data Hogs
It's easy to exceed your data allowance if you don't know which features and applications use most. If you use your mobile phone to tether a laptop, like a modem, then you could easily reach your data allowance if you stick to the same browsing habits as when you're working on a home broadband connection.
The biggest use of data is media streaming, particularly videos. A three minute video clip will typically absorb 5MB of your allowance, with music files not far short at 4MB for each hour you download. A two hour movie would require around 1.5GB – more than many people's monthly data allowance.
But it's not just media clips which count towards this allowance. The graphics built into online gaming applications make them data-hungry, so limit their use to when you've got a Wi-Fi connection.
Kill Those Notifications
In addition to limiting your use of the above applications, be wary of programmes which offer 'customer friendly' notifications. These helpful pop up messages mean the application is continually connecting to the internet, and thereby eating into your data allowance. Turn off notifications on social networking applications and you'll reduce your risk of going over your limit.
If your smartphone is set to continually receive e-mail, you could be using more of your allowance on this function than you need. By setting your phone to check for mail every fifteen minutes – or every hour – you'll significantly reduce your data consumption.
The average e-mail requires around 10KB to download, but bulky attachments can be costly if you're already close to your data ceiling. Unless it's urgent, wait until you're near a Wi-Fi hotspot before downloading them.
Keep and Eye on Your Package
If you continually exceed your data allowance each month, consider upgrading. Be specific with your mobile phone provider about your needs and find a package which provides you with a cost-effective solution.
You might also like...