Upgrading your Mobile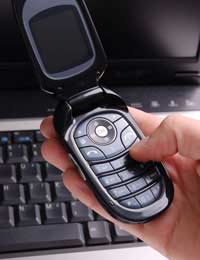 One of the benefits of a monthly contract, rather than a prepaid phone, is that toward the end of the contract you may be offered a phone upgrade. And although the purse strings are drawing tighter at the mobile phone operators, there's still room for negotiation if you know the right buttons to press.
Belt Tightening at the Phone Companies
A few years ago companies would fall over themselves to offer new models before contracts expired in an attempt to keep customers. But although it's the airtime and messaging charges that keep the mobile operators in business, the cost of the phones has become an issue too, so companies are now more likely to keep quiet as a contract ends, particularly if it's not a particularly high value contract. If you carry on with the same tariff and the same phone, then the company has saved themselves the cost of the new phone you wanted.
So it's more likely today that you will have to ring up and enquire about an upgrade as the contract is coming to the end. Depending on the value of your monthly contract and the phone you are after, you may have to pay something toward the phone you want. The more minutes you pay for each month, the lower the charge for the phone, until it is eventually free.
Do the Homework First
Start by looking at recent bills to make sure that you're on a tariff that suits you, you're not using a great deal more or less than your inclusive call minutes, text allowance or data transfer amount. Although it's the phone you're looking to change, there might be some leeway with tariff changes at the same time that will help you get the phone that you want.
Then look at the phones that are available. With a bewildering array of phones and facilities, deciding which model is right for you may be the hardest part of the process. It may be worth buying a mobile phone magazine that lists all the available phones, their size and technical specification, to help select one that fits your needs.
Check Out the Competition
Armed with this information, have a look on the web or in newspapers to see what deals are on offer from other providers, then ring your existing company. If you tell them about the deals you have seen they may well come back with an offer that will beat, or be close to, the ones you have seen.
Remember that it's more expensive for companies to find new customers than keep existing ones, and if you've got the nerve, you can even remind them of that. It may well get you a further price reduction or an extra accessory thrown in.
Words of Warning
There are two things that you need to be aware of. The first is that you may get approached, either by phone call or text message, by companies offering you the latest phones and massive minute deals. Often the callers will say that they are from your existing provider, but in fact they won't be. You need to be very careful about this. Some of the deals are straight but most will have other charges that are not specified that will make the contract more expensive that you were lead to believe.
The other point is to control your desires. Although it might be fantastic to be able to show all your mates that all-singing, all-dancing, gadget-laden phone, you might be regretting it a couple of months later when the shine has worn off and you're facing the reality of a monthly charge that's double what you were paying before.
You might also like...