Economical Gas Use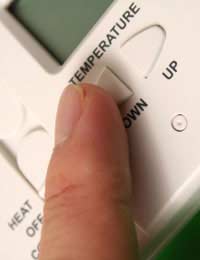 Although you can save money by switching from your current supplier to a cheaper one, you can also save money, regardless of which supplier you're with or what tariff you're on, by cutting down on the amount of gas that you use. You can make changes to your daily habits to reduce the amount you use, find different ways of doing things you use gas for, and change your systems to use less gas.
Cooking With Gas
Gas is usually used in domestic situations for cooking, hot water and heating. With cooking, there are small changes you can make that make sure your use is as efficient as possible. For example, make sure the flames aren't licking around the edge of the pan, as that heat is wasted, and put the minimum amount of water in each pan, so if you are steaming vegetables only use an inch of water, if that, rather than a whole pan. When you need to preheat the oven, turn it on five minutes before you need it, not half an hour.
Apart from the little things like that, which will help, there's not a great deal you can do to in the cooking arena except switch to electricity or a solid fuel range. Both of these switches will cost you a lot of money though, and are unlikely to pay back for a very long time, if at all. If you are thinking of making the change for environmental reasons then payback won't be so important, and a multi-fuel stove might be the answer, perhaps with an integrated back boiler that can supply energy for hot water and heating too.
Economising on Hot Water and Heating
To save on gas used for heating and hot water, you can economise by improving your insulation and modifying your habits a little. Have a look at your loft insulation and put more down if there's less than six inches, and draught proof the house, although you should take care to ensure adequate ventilation to keep condensation at bay.
Make sure the hot water cylinder, if you have one, is well jacketed to keep the water warm for as long as possible. You can also try turning the thermostat down a degree or two and see if anyone notices, and fit individual thermostats to all the radiators if they don't already have them.
Experiment with times for turning the heating and hot water on and off. If you're all out of the house by 8.30, for example, try having the heating off time set for 8am, as it will take a while for the radiators to cool down. You might be able to trim the hot water thermostat down a little and still have water hot enough for showers, baths and washing. If you're having to add a lot of cold water to make those things bearable then your water is too hot anyway.
High Efficiency Condensing Boilers
Finally, if your boiler's not particularly new then you might be able to reduce your consumption by upgrading to a modern high efficiency condensing boiler. These have a heat recovery system that captures and uses a lot of the energy that's wasted in older models. You can find out if you already have one by looking at the SEDBUK rating (Seasonal Efficiency of Domestic Boilers) and if it's not A-rated, or it has no rating, then you should consider replacing it. Or you can look your boiler up on the government's boiler efficiency database, available at www.boilers.org.uk.
You might also like...