Keeping Electricity Costs Down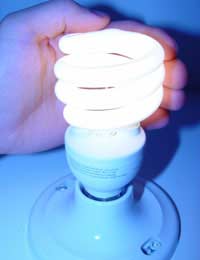 Cutting domestic electricity costs is getting more important for many homes because, despite the introduction of competition after privatisation, electricity costs have climbed inexorably higher over the past few decades. Part of this is down to inflation and rising oil prices but it's also a result of the drive for profits that accompanies privatisation.
Green Factors
Now there is a second factor, the emphasis on green issues and climate change that we face today, and many people who can afford higher electricity bills are looking to reduce consumption to play their part in lowering emissions. Essentially there are two issues: you need to cut down on electricity use and pay less for the electricity you are using.
To some extent, the amount you can cut down is governed by the setup of your house. If you are using gas for heating then your electricity costs aren't going to be effected a great deal by draught-proofing and insulating your home, although if you are looking at the green perspective this is worth doing, as cutting down on gas usage will also lower your personal emission output.
Electric Heating
If you have electric storage heaters then as well as improving insulation, try turning the controls down a little and putting jumpers on to see if you can make the heat stored in the radiator blocks last longer. You can also try turning heaters off in rooms that are rarely used like guest bedrooms or utility rooms, and simply accept that those rooms will be cold when you go into them for a couple of minutes.
With other electric heating systems, such as hot air, you can also cut back on the timer settings. Try setting it to go off half an hour before you are in bed, for example, rather than after you've gone to bed.
Say No to Standby
Whether you are on electric heating or not, it's then time to pay attention to the lighting and gadgets. Turning them off if they're not being used is a good idea, but it can be difficult for some items where they go on standby, and you might not be able to reach the wall socket to turn them off properly. In some areas, the living room in particular, you might have four or five devices plugged into one area along with some that you want to have left on, like a video recorder or hard disk recorder such as a Sky+ box.
In this case you can perhaps re-jig the electrics so that all the devices that can be turned off are on a four-way extension with a switch, so that they can all be turned off at once, and plug the things that need to be kept on into a different source. If this isn't possible you can now buy remote control devices that plug into the power socket so that you can cut the power to sockets you can't normally reach. There are also 'intelligent' power blocks for home computer setups where the power to all the peripherals, such as printers, scanners and other accessories is cut when the power block senses that the PC has been powered down.
Light Bulbs and White Goods
Swapping to low intensity energy efficient light bulbs can help, and if you need to buy a new item like a fridge freezer or washing machine, look for the 'Energy Saving Recommended' logo to find devices that have been certified by the Energy Saving Trust. There should also be an EU Energy Saving label on any white goods that clearly shows, in coloured bars, the energy efficiency of a product.
Switch and Save
From a cost point of view you can consider switching to a cheaper
electricity supplier
, and this can also help from a green perspective. There are many comparison websites that can help you calculate how much you can save by switching to a different supplier.
There are a growing number of suppliers who advertise themselves as greener than the mainstream providers and are likely to use renewable sources. But as there aren't many renewable sources of mains power as yet these suppliers boost their 'green' credentials by getting involved in carbon offset schemes, where they support tree planting initiatives which balance the damage they do to the environment.
So whatever your driver, be it ecology or economy, there's probably quite a lot you can do to lower your electricity usage.
You might also like...