Pay as You Go on Mobile Phones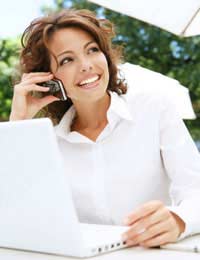 Most mobile phone arrangements fall into two distinct categories, Pay As You Go or monthly contracts. Pay As You Go (known as PAYG in the trade) does exactly what it says on the tin, you pay for the calls you make and there are no other charges. The other option, monthly contracts, or monthly tariffs, entails more of a commitment. There are contracts of a year or more, with line rental and a varying number of free minutes and texts each month for you to use.
Topping Up
PAYG mobiles are also know as 'prepaid' phones, which hints at the main difference between the two main contract types. For PAYG you pay for the calls up front, and with monthly tariffs you settle monthly after you've used the phone. So PAYG was initially more popular with domestic users and monthly tariffs found favour with business people.
When prepaid mobiles first emerged the payment had to be done by buying a card with a value of, say £10 or £20 which had a unique code. Once entered into the phone or into the providers systems this allows the phone to be used until the amount of credit expires or is used up. These cards were (and still are) available at newsagents, garages and other shops, but are beginning to die out. Gradually other more automated methods of 'topping-up', such as online credits, text message or using a cash machine, have emerged, making it easier to keep a phone in credit and making the cards redundant.
Toe in the Water
Many people's first mobile phones are PAYG rather than being on a monthly contract. This makes sense as they are not sure how much they will use the phone, are perhaps scared of the high call charges compared to a normal household phone and don't want to commit to a contract until their usage pattern has settled down. Later on they may consider a monthly contract if it looks like it will be the cheaper option.
The charges for calls on PAYG phones are usually higher than other calling methods, regardless of whether they are mobile phones or landlines. Initially calls attracted connection charges as well as exorbitant per minute rates, but competition has driven the prices down and now there are different pricing models such as flat rates for each call, regardless of length, and a variety of per minute rates. There are also many different rates and bundles for text messages so it pays to assess the rates against the use that you are likely to make of a phone before choosing a network.
Free Phones Die Out
In the early days of the mobile phone boom the phones were offered to customers free of charge but after a while this practice died out. The main reason for charging for the phones appears to be to encourage customers onto monthly tariffs, which are more lucrative for the phone companies.
Even SIM cards (which carry the number and identity of the phone) used to be chargeable but recently they have become free (as long as they are bought with some airtime credit) as providers realise that they can easily attract customers who already have phones.
Get Going on the Cheap
In fact, the cheapest way of getting on the mobile bandwagon is to get a spare phone from someone, perhaps a family member, who has recently upgraded. Then put a free SIM card into it and you're away.
You might also like...