Broadband Package Alternatives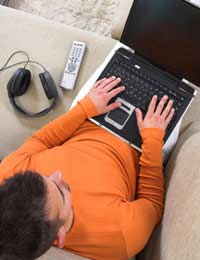 Broadband, also known as DSL or ADSL, revolutionised internet access for domestic consumers when it started to become available at the start of the 21st century. Before then customers could only use dial-up modems with a speed of less than half a meg, unless they could get onto the cable network operated by NTL or Telewest (now both owned by Virgin Mobile).
What is 'Broadband'?
'Broadband' is a fairly misleading phrase as it can be used to mean any data transmission method which is capable of being split into a number of channels and therefore allowing much faster speeds than an analogue modem. Business users already had access to broadband, from a variety of technologies made available by the telecommunications companies in the United Kingdom, for decades before Digital Subscriber Loop (DSL) came along.
Digital equipment placed in the local exchange allows part of the signal frequency on ordinary copper telephone wires to be used for voice and another part for data, so that phone conversations and internet use can happen at the same time. Up until this was done it was thought that high speed internet traffic to the home would have to wait until the streets were re-wired with fibre-optic cable.
What this means to the consumer is a vastly improved internet service when compared with using an ordinary modem. Not only can it be 16 times (or more) faster than a modem, but people can use the phone while you are connected to the internet. Also the service is always on, not just there after you have dialled up, so there's no annoying delay waiting for a modem to make the connection.
Why Can't Everyone Have Broadband?
The roll-out of DSL in the United Kingdom was hampered by BT having to put new equipment in each exchange. This meant that important cities and large urban areas were enabled first, with many rural areas having to wait for a number of years before it became available in their area. Even then, signal quality degradation problems mean that a customer's chance of getting a decent DSL signal get lower the further away they get from the exchange.
In practice, depending on the equipment in the exchange, speeds of 1.5 to 8 Mbits per second are achievable within 3 miles of the exchange, although the quality of the lines and the various junction box connections can make this worse. So there are people in the United Kingdom whose exchange may have been enabled but they are still unable to use DSL. Add this to the fact that BT will not activate exchanges that are too far away and have too few potential users to make DSL activation worthwhile, and the result is a pretty raw deal for rural users.
Broadband Pricing
Broadband packages are usually priced on two factors: the speed of the connection and the number of hours or megabytes of data that can be used in each month. The smaller the amount of data or connection time allowed per month, the cheaper the monthly cost, although the cost can vary wildly if broadband is bought as part of a bundled package with another service such as telephone, television or mobile phone. See our separate article in this section on bundling for more details.
Decide What Equipment you Need
Unless you've had broadband before, you will need some equipment to connect your computer or computers to broadband. Some providers will charge for this and other won't, but the best thing is to look at the package overall before deciding. Note also that there are different levels of connection equipment available.
Some providers offer a small box that connects to one PC via a USB cable. This will work fine but if you are likely to want to connect more than one PC, either now or in the future, opt for a router, either wired or wireless.
As so many laptops now come with Wi-Fi as standard, it makes sense to get a wireless router, with some wired ports as well, then you'll be covered for all eventualities. But cost it out properly, it might be cheaper overall to pay for the router up front and get a cheaper monthly tariff than get a free wireless router.
Watch for the Marketing Tricks
There is much consternation in the media at the movement about the speeds that are being quoted by broadband providers. This centres on the use of the phrase 'up to', for example: '£15 per month for up to 8Mbs'. Because any speed slower than 8Mbs is, of course, included in this phrase, a company is legally able to give you ADSL that could be as slow as a quarter of a meg, and still say that it falls within the bounds of the offer.
There are a number of campaigns to stop the use of the 'up to' phrase but, with all the variables to take into account, it is almost impossible to establish how fast a DSL connection will be before installing it, so this situation is unlikely to change.
You might also like...