Dial-up Flat Rate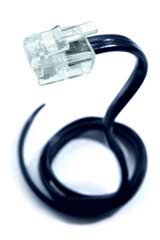 For those who are still unable to obtain broadband but are heavy users of the internet, there are still a few providers offering 'flat rate' modem or ISDN packages. Technically, as far as the customer is concerned, the offering is the same as Pay As You Go (also known as PAYG or 0845 access) but you are offered a set amount of usage, usually measured in hours per month, in return for a monthly fee. The more you pay, the more you are allowed to use, right up to unlimited.
Flat Rate Background
After the explosion of internet use in the United Kingdom, at the end of the 1990s, led by the emergence of Freeserve and many other internet service providers (ISPs) offering 0945 access, many people started to rack up large bills with 0845 call charges. This was exacerbated by the relatively slow speeds attainable by modems, at least when compared to today's broadband speeds.
The ISPs began to offer services that used a BT line package called Flat Rate Internet Access Control (FRIACO), run on 0844 numbers, which was a lot cheaper to run than 0845 lines, although it could be expensive if the predicted allocation wasn't used.
Benefits of the Customer Relationship
The real benefit for the ISPs was that customers had to set up a regular billing relationship with them. With the PAYG model anyone could log on and use the service; with the ISPs getting money from the 0845 revenues they didn't care who was logging on. But this meant that they didn't know who they were dealing with and couldn't build a relationship that they could use to advertise products and sell other services.
For the longer term health of their businesses, the ISPs valued knowing who was using the services and their names and addresses, as it meant that they could then begin to do those things. For the customer, it meant that they got less downtime and a more reliable connection as the usage peaks and troughs were smoother, and often the telephone support was cheaper too.
Flat Rate and ISDN
For people in remote areas who aren't able to get broadband, a good alternative is to use flat rate but with an ISDN modem rather than an ordinary analogue one. This digital service gives more reliable connections and speeds of up to 64kbps (as opposed to a theoretical maximum of 56kbps with analogue) or 128kpbs if two channels are connected (dual-bonding) at the same time.
Another advantage against analogue modems is that connection is virtually instantaneous and there is no delay listening to the squawking of the modem while it goes through it's tortuous connection negotiation with the modems at the other end of the line.
However, ISDN is expensive to install with high line rental. Call charges could be higher than expected too, because dual channel connections, to get 128kbps, are treated by the telephony network as two calls, so you are charged double.
Good Choice for Heavy Users in Non-Broadband Areas
These days it makes sense both for consumers and the ISPs if everyone can get onto broadband. It's not that much more expensive than some flat rate modem services and much cheaper than PAYG if you are a heavy user. Add in the much faster speeds and the fact that it's always on so you don't have to connect up when you want to use it, and broadband just makes more sense all round.
But for those who are unable to choose broadband, flat rate is there as an alternative. If 0845 call charges are getting above eight or nine pounds a month, then it's well worth looking at a flat rate package.
You might also like...